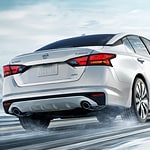 If you're in the market for a new car, you'll want to check out the all-new 2022 Nissan Altima. Below are exterior features that are sure to impress.
- LED headlights and taillights: These not only look great, but they're also more energy-efficient than traditional bulbs. One of the best parts about LED lights is that they last much longer than other types of bulbs.
- Panoramic sunroof: This is a great feature for letting in natural light and fresh air. It's also a great way to enjoy the outdoors while still being inside your car.